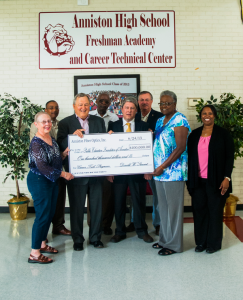 Local lawyer and philanthropist, Donald W. Stewart and Anniston Fiber Optics, Inc. has donated $100,000.00 to the Public Education Foundation of Anniston (PEFA). Donald W. Stewart, Priscilla "LuLu" Stewart and their son, Taylor Stewart presented PEFA with a check for $100,000.00 on Friday, June 28, 2013 at 11:00 a.m. at Anniston High School. This donation will help to assist the career technology program, which integrates academic, technical and occupational knowledge. PEFA exists to support the educational process with time and resources in order to promote student success. "This funding will aid us in expanding student's learning opportunities, marketable skills and technological awareness. We are very grateful to receive this donation," says PEFA Vice Chairman, Bruce Jameson.
Initially funded by the Donald W. Stewart Family, Anniston Fiber Optics seeks to provide educational technology improvement for Anniston and Calhoun County students. "Anniston's children deserve access to technology. The career technology program provides a tremendous opportunity for our students," says Donald W. Stewart, "we hope this donation will help to give students the self-esteem and skill set necessary to succeed in our exceedingly technological world." Anniston Fiber Optics provides broadband access via fiber optic facilities within the schools and funding to upgrade technology in the Anniston City Schools and surrounding area.
The Stewart family also participates in historic preservation and philanthropy through the Stewart Family Foundation. Donald W. Stewart and Taylor Stewart are partners of the law firm Stewart & Stewart P.C. For questions and more information regarding the Anniston Fiber Optics PEFA donation or Stewart and Stewart, P.C., contact Rachael Harris at 256-237-9311. For more information about The Public Education Foundation of Anniston, contact Wonder Osborne, PEFA's executive director, at 256-237-0053.
About PEFA
The Public Education Foundation of Anniston has provided academic support for students in the Anniston City School System since 1998. PEFA's mission is to provide coordinated efforts that assist and motivate students to achieve full potential. By forming partnerships with schools, businesses, parents and the community, the foundation is able to provide time and resources that support existing means of strengthening the local educational system. To get involved or learn more about PEFA, visit PEFAnniston.org.
About Anniston Fiber Optics, Inc.
Founded in 2008, Anniston Fiber Optics is a non-profit organization that seeks to provide technological improvement by providing fiber optic facilities in the east Alabama region. Grant awards through the Appalachian Regional Commission, the State of Alabama Department of Education and private funding from the Stewart Family Foundation have increased the original vision of the organization. Anniston Fiber Optics recognizes the need for modernizing as a necessary part of long term economic stability and prosperity. Visit StewartandStewart.net for more information about Anniston Fiber Optics, Inc.